Megan Von Duhn is a Senior Research Analyst at Equilar, Inc. This post is based on an Equilar memorandum by Ms. Von Duhn.
General Motors (GM) recently appointed Dhivya Suryadevara as its Chief Financial Officer, effective September 1st. The news made many headlines because, in a position that has long been dominated by men, Suryadevara will be the first female CFO at GM. She joins GM's current female Chief Executive Officer Mary T. Barra, putting General Motors at the forefront of companies with women currently sitting in both the CEO and CFO positions.
A woman joining the ranks of the C-suite is generally highly publicized. Additionally, a number of women in C-suite positions are quite high-profile, such as Meg Whitman and Ursula Burns. Whitman is famous for turning eBay into a billion dollar company when she served as CEO. Burns, on the other hand, made strides becoming the first African-American female CEO at Xerox—a Fortune 500 company. A female CEO and CFO tandem in these highly sought-after positions may seem unlikely at times. Highly sought after C-suite positions are—and have historically been—dominated by men. Equilar conducted a study to look at the gender make-up of the CEO and CFO positions at Equilar 500 companies in recent years.
Below is the breakdown of female CEOs (Figure 1) and female CFOs (Figure 2) at the Equilar 500 over the past three fiscal years. In observing the numbers, the data highlights that female prevalence at either position tends to be rare.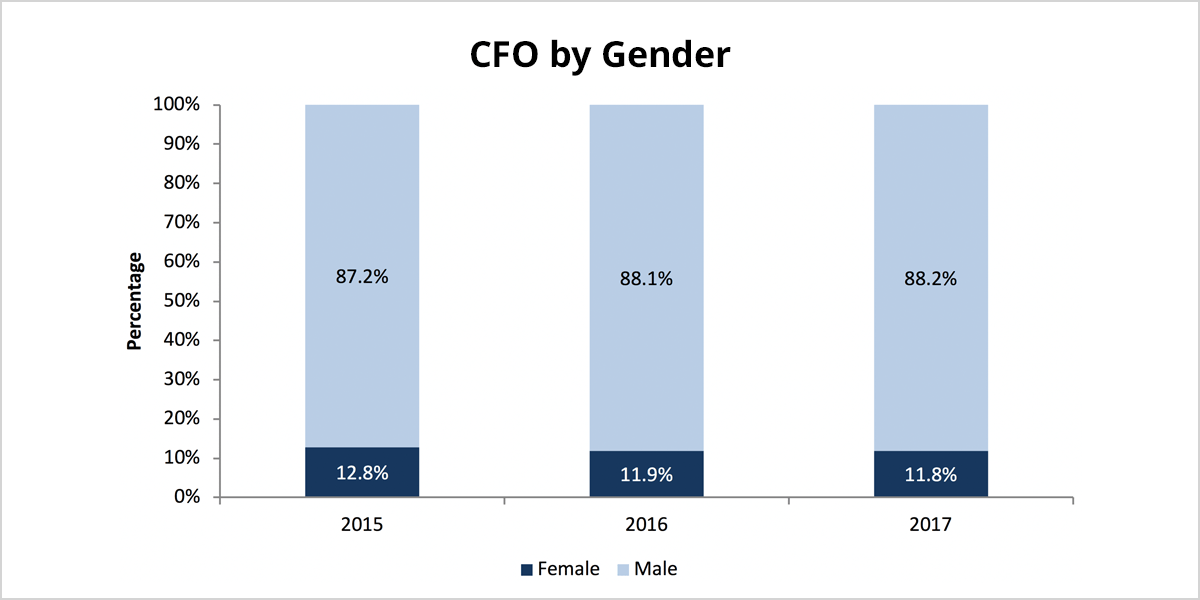 In both Figures 1 and 2, it is apparent, and not surprisingly so, that there are more male than female CEOs and CFOs every year. As the years progress, there is a slight change in the number of female CEO-CFO combinations. Over the past three years, the percentage of female CEOs increased from 3.5% to 4.6%, while the percentage of female CFOs decreased from about 13% to 11.8%. 2015 saw the greatest percentage of female CFOs, at 12.8% of all executives in the position. Diving deeper and examining male to female ratios (Figure 3), it is evident, on average, that for every female CEO, 24.2 male CEOs are employed. Similarly, one female CFO equates to 7.2 male CFOs on average. Additionally, all three years hovered around a 7:1 ratio for CFOs. Whereas, when time progressed, the ratio of male-to-female CEOs has been on the decline. Though the ratio is decreasing at the CEO level, it is still clear that regardless of the year and executive level, the ratio of male-to-female CEOs and CFOs is skewed toward one gender.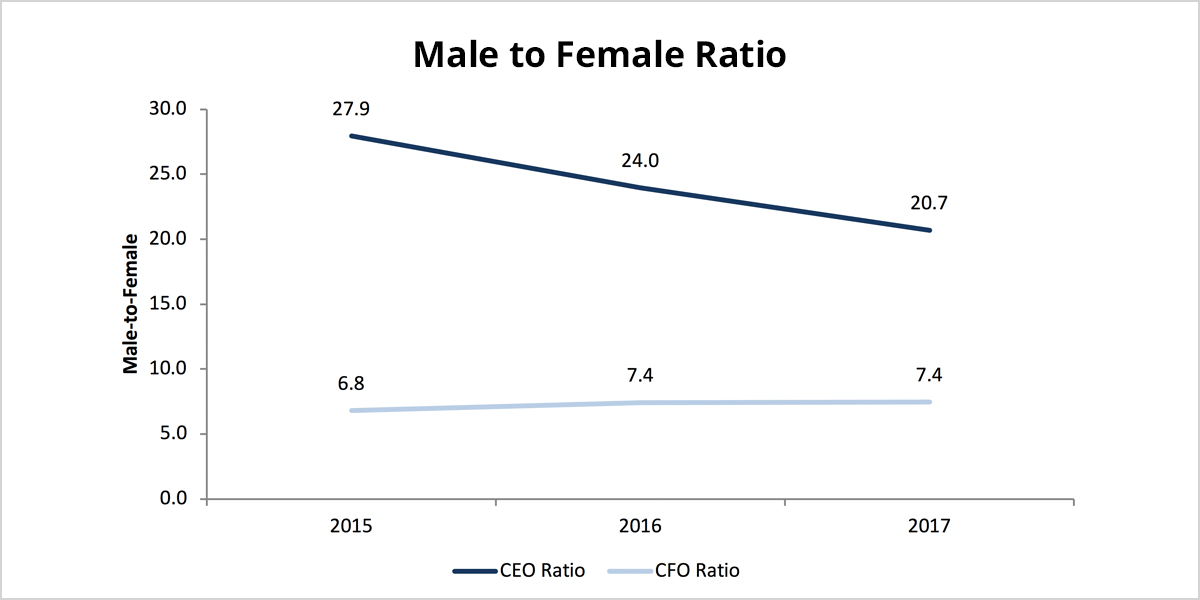 With these ratios and the prevalence of females at each position in mind, the lack of female CEO-CFO duos (Figure 4) comes as no surprise. Based on the data, there is a clear lack of females in both CEO and CFO roles. No matter the year analyzed, the data highlights the fact that women are not highly represented within the C-suite. With such a small count of female CEOs, the probability of having both a female CFO and female CEO is quite low. However, the probability of having one female CEO or female CFO is higher, while having both a male CEO and a male CFO is so high it can be seen as the norm because the pool of male executives is vast.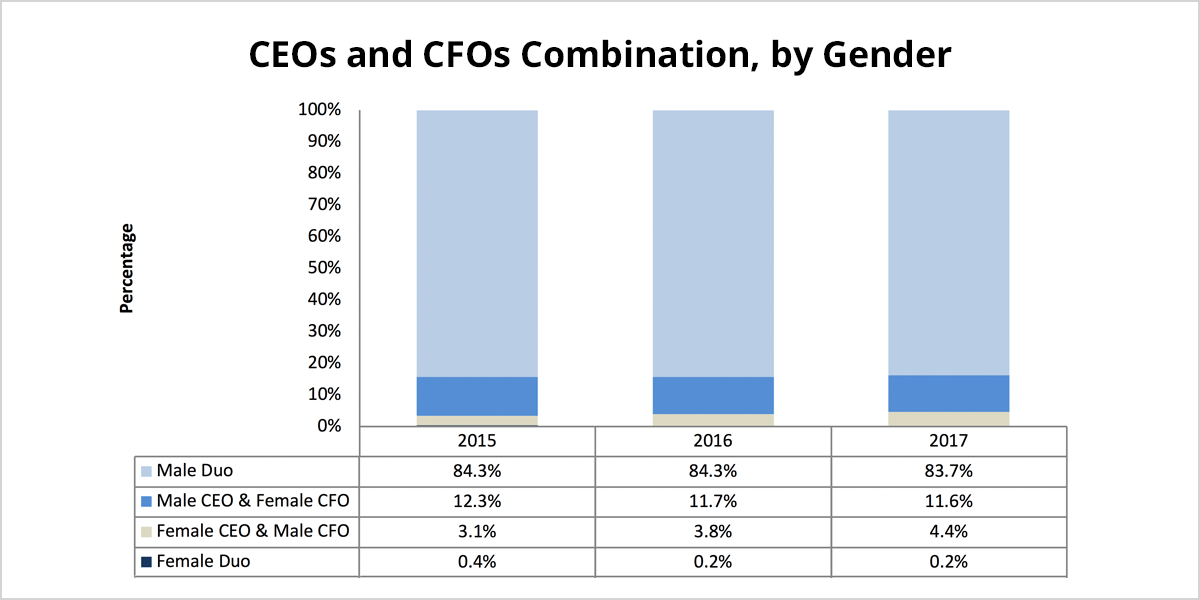 It is clear that female representation in C-suite positions is lacking, and a combination of female CEO and female CFO is even more so. Therefore, the question remains: why are there so few women at the C-suite level? While there are plenty of potential reasons to explain the lack of female representation, one explanation may be a result of historical gender norms. For instance, the world was built upon the idea that men go to work while women stay home and care for the home and children. In this culture, gender normativity has instilled that women have to give up on their careers or not have them at all because that is the gender stereotype. Additionally, this gender norm has created a stigma regarding paternal leave which implies men do not necessarily need to leave work for a newborn child. This causes future mothers to drop out of the labor force at a relatively early stage in their career in order to give birth to and care for children, particularly with the rise in cost of childcare Even for mothers who benefit from working at companies that provide paid maternity leave, there is no guarantee that their male counterpart will be afforded the same luxury at their respective firm. All around, breaking the gender normative can have a positive effect on the overall number of women in the workplace, and could help to increase the number of female CEO and female CFO combinations in C-suite offices.