On the surface, the 2018 activism data is largely consistent with 2017, but with an uptick in overall activity. The amount of capital invested in new activist positions in 2018 was up approximately $2.5 billion from 2017, and activists won more board seats in 2018 than in 2017, mostly through settlements. Although several well-known activists (including Third Point, Pershing Square and Greenlight Capital) announced disappointing investment results in 2018, and the industry experienced negative net asset flows overall, activist funds continue to attract substantial new capital.
While Elliott was the most active fund globally in 2018, accounting for 9% of all campaigns, many other established activists were busy: nine of the top ten activist funds (calculated by aggregate market value of their activist positions at year-end 2018) each invested more than $1 billion in new campaigns in 2018. 52% of all board seats won globally since 2013 have been won by a group of 11 activists (in order of board seats won): Starboard, Elliott, Icahn, JANA, Engaged Capital, Sarissa Capital, ValueAct, Corvex, FrontFour, Glenview and Legion Partners. Many of these "name brand" activists have since spun-off new funds, or their key players have moved on to other funds, leading to a dispersion of skills and techniques across a wide playing field and resulting in 2018 producing a record number of first-time activists initiating campaigns.
Some activists are also doubling down on their strategies. For example, JANA recently announced it is closing its long/short equity funds to focus on activism and impact investing. Additionally, if there were a market downturn in 2019, the lower entry point for activists would make investments more affordable in companies perceived to be undervalued. In the last four years, when the S&P 500 has decreased year-over-year and the median VIX has increased year-over-year (2014 to 2015 and 2017 to 2018), we have observed increases in the total number of publicly announced activist campaigns. Conversely, during the same four-year period, we have observed decreases in public activist activity in those years in which the S&P 500 has increased year-over-year and the median VIX has decreased year-over-year.
The consistency of 2018's data with 2017's data across multiple metrics suggests that activism practices have begun to stabilize. However, the data alone does not tell the full story, as there have been a few notable trends emerging in the past year. These include: (1) the rise of "purpose" investing; (2) rising prospects for increased civility in activist contests; (3) the changing regulatory landscape; (4) developing technologies that are altering the ways activists and issuers alike can reach shareholders; (5) increased focus on M&A objectives in activism campaigns, including post-deal announcement; and (6) a heightened focus on CEO succession. In addition, more companies are prepared for activists, and activists' strategies are less likely to seem novel or catch large issuers by surprise. Further, more advisors have entered the activism space, resulting in a proliferation of information about how to engage with activists and other shareholders.
Notes on the Scope and Sources of Data Used in This Publication
The information in the complete publication on proxy contests and other activist campaigns is based on the database maintained by FactSet Research Systems, Inc. on SharkRepellent.net, using a dataset run on January 15, 2019, supplemented by our review of public information and other third-party sources. To provide an analysis relevant to our U.S. public company clients, we have not included campaigns at companies with a market cap of under $100 million and have not included campaigns at non-U.S. companies. We have followed the SharkRepellent categorization of campaigns as "proxy fights" or "other stockholder campaigns," but have not included those categorized merely as exempt solicitations or Schedule 13D filings with no public activism. We have not included the mere submission of Rule 14a-8 proposals as "campaigns," although the section "Types and Objectives of Activist Campaigns" discusses the use of shareholder proposals that were brought in conjunction with the activist campaigns covered in this publication. We have also excluded from the "other stockholder campaigns" category strategic acquisition attempts that involve unsolicited offers by one business entity to acquire another, though we have included takeover attempts involving unsolicited offers by activist hedge funds. In addition, where one activist launched campaigns against several affiliates we counted this as one campaign for purposes of comparison and analysis. Further, we have categorized activist campaigns based on the calendar year in which a campaign was launched, even if the campaign is completed (e.g., an activist gains a board seat) during the following calendar year.
Data in this publication regarding hedge fund assets under management (AUM), performance and formation is based on the year-end 2018 Hedge Fund Industry Report issued by Hedge Fund Research (HFR) on January 18, 2019, unless otherwise indicated. Other data sources, including Proxy Pulse (a Broadridge and PricewaterhouseCoopers initiative), are identified as they arise.
Our analysis throughout the complete publication is heavily dependent upon this data, statistics, our anecdotal experience and various assumptions. If our assumptions prove to be incorrect or if the data is incomplete or contains errors, our analysis and conclusions could change. Moreover, every activism situation is unique and none of the statistics and analysis presented in this publication should be construed as legal advice with respect to any particular issuer, activist or set of facts and circumstances.
Activist Investors
A. Total Activist Campaigns
2018 saw a 5.5% increase in the number of activist campaigns, with 268 campaigns announced. The total number of campaigns has been remarkably consistent over the past five years with an average of approximately 272 campaigns announced per year. However, the total number of public campaigns in a given year does not paint a full picture; based on anecdotal information, a significant number of activist situations also are being resolved without publicity.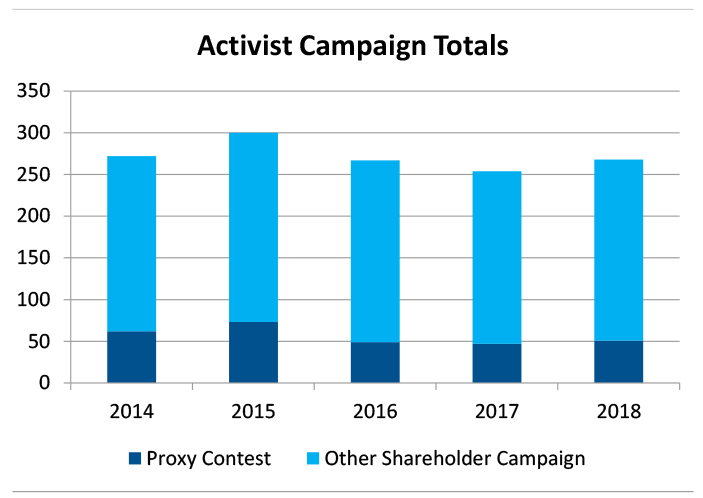 Proxy contests made up a slightly smaller percentage of announced activist campaigns in the past three years than had been observed in prior years. During these three years, less than 20% of activist campaigns developed into proxy contests. In comparison, full-scale proxy contests developed, on average, in slightly less than one-quarter of all activist campaigns announced in 2014 and 2015. Importantly, this statistic does not take into account campaigns that were settled prior to developing into a proxy contest but still resulted in board seats for the activists.
B. Assets Under Management by Activist Hedge Funds
In 2018, activist hedge fund AUM showed modest decreases, shrinking at a meaningfully higher rate than hedge funds overall. The second half of 2018 was the first period since the first half of 2016 that activist hedge fund AUM declined, reversing a two-year period of continued growth. Note that the changes in AUM during the second half of 2018 may be largely attributable to overall market performance and the differences in the portfolio composition of activist funds compared to non-activist funds. The decrease in non-activist hedge fund AUM tracked the Dow Jones Industrial Average (-3.84% and -3.89%, respectively) while the decrease in activist hedge fund AUM tracked the S&P 500 (-7.76% and -7.78%, respectively).
C. Activist Hedge Fund Withdrawals and Redemptions
Activist hedge funds experienced negative net asset flows in each of the last three quarters of 2018, resulting in a total negative net asset flow of approximately $2.18 billion in 2018. Despite a brief period of positive net asset flow from mid-2017 through the first quarter of 2018, the negative net asset flow in 2018 represented a shift back to the previous trend of negative net asset flows from the fourth quarter of 2015 until mid-2017. Net outflows at activist hedge funds represented approximately 2% of average AUM during this period, whereas outflows at all hedge funds represented just over 1% of average AUM.
The disproportionate amounts of outflows from activist hedge funds over the last three years suggest, at a minimum, that these funds may face significant fundraising and fund-retention challenges when seeking to identify and capitalize on activism opportunities in the near-term.
D. Activist Hedge Fund Performance
In 2018, the hedge fund industry as a whole earned low returns—an average of negative 0.54% per quarter—and activists underperformed the hedge fund industry by posting average returns of negative 1.12% per quarter. In general, activist hedge funds have been more volatile than hedge funds overall, and this volatility has continued through recent years. Hedge funds significantly outperformed the S&P 500 and the Dow Jones Industrial Average in 2018, which had returns of negative 6.2% and negative 5.6%, respectively.
E. Increase in Activist Campaigns Brought by Infrequent Activists
Over the past several years, the percentage of campaigns launched by "infrequent" activist investors has increased and 2018 marked a continuation of this trend. For purposes of this publication, we have defined infrequent activists as firms that have brought five or fewer campaigns since the beginning of 2014. Infrequent activists brought 57% of all proxy contests and 68% of all publicly announced campaigns in 2018, marking an increase from 2017 when infrequent activists brought 54% of all proxy contests, but only 56% of all announced campaigns. The level of infrequent activist activity in 2018 was more consistent with 2016 levels.
F. Frequent Activist Investors
The most frequent activists in terms of announced campaigns against U.S. issuers in 2018 were Spruce Point, Elliott Management and Starboard. In addition to the public campaigns discussed below, activists engage in "behind the scenes" campaigns that often prove successful. Elliott is the only activist to appear in the top-three of announced campaigns in each of the past four years. During this time period, Elliott has engaged in 34 announced campaigns against U.S. issuers. This is the first time Spruce Point, a long/short hedge fund founded in 2009 that focuses on short selling activism strategies, has appeared in the top-three over the past five years, but it was active last year as well, announcing seven campaigns in 2017. GAMCO, which had been in the top-three from 2014 through 2017, announced one campaign against a U.S. issuer in 2018:
G. Prominent Activist Investors
As discussed further in the section "Target Companies by Market Capitalization" below, a large percentage of Fortune 100 companies have been the targets of activist campaigns. But, given the capital required to acquire a significant stake in large-cap companies, only a small number of prominent activist investors have targeted Fortune 100 companies, and only five investors have announced more than two activist campaigns against a Fortune 100 target company since 2014.
H. Most Successful Activists by Board Seats Obtained
Activists have experienced higher success rates in obtaining board seats in recent years, although the volume of campaigns has declined markedly since 2015. In 2018, activists averaged 0.8 board seats per campaign, doubling the 2016 average. As summarized in the table below, activists on average have received more than one board seat for every two campaigns announced in a particular year.
The activists that have been the most successful at obtaining board seats are generally those who are the most prolific in terms of number of campaigns. Icahn Associates is a notable exception, in that it has not been in the top-three most frequent activists in any year during the past five years. However, in the campaigns it has announced, Icahn has been remarkably successful, obtaining, on average, 1.48 board seats in each announced campaign over the last five years. Many board seats are also obtained through "quiet" campaigns where an activist engages with the issuer "behind the scenes." As noted in "Notes on the Scope and Sources of Data Used in This Publication," this data is limited to U.S. companies, and so does not reflect the success of activist funds, like Elliott, in Europe over the past five years.
Types and Objectives of Activist Campaigns
Initiating or threatening to initiate a proxy contest for board representation is a common strategy used by activists to achieve their campaign objectives. A proxy contest occurs when an activist nominates one or more directors for election in opposition to a public company's slate of director nominees. Activists also conduct campaigns through other avenues and tactics, all of which we have included in the general category of "other stockholder campaigns"; this can include publicly disclosing letters to target companies, issuing press releases, proposing precatory or binding shareholder proposals, running "vote no" campaigns against incumbent directors, calling special meetings or taking actions by written consent.
A. Frequency of Different Campaign Types
2018 saw a 5.5% increase in the number of activist campaigns, including both proxy contests and other stockholder campaigns, following a slight reduction in 2017. The number of activist campaigns in 2018 was generally in line with five-year averages.
On average, approximately 21% of activist campaigns have taken the form of actual proxy contests in the past five years. The actual percentage of proxy contests compared to total announced campaigns in 2018 was slightly below average at 19%, but this number can be explained in part by the fact that some of the campaigns currently categorized as "Other Stockholder Campaigns" may yet evolve into actual proxy contests in 2019.
B. Underlying Objectives of Activist Campaigns
Although board representation remains the most common objective in activist campaigns, it is almost always sought in conjunction with other underlying objectives. In past years, the most common underlying objectives of proxy contests related to business strategies, balance-sheet actions (such as returning cash to shareholders through dividends or share repurchases, which are often related to capital allocation strategies) and divestitures or other M&A actions (such as encouraging a sale of the company or opposing a merger). In 2018, proxy contests focused mostly on balance-sheet issues (such as concerns about the capital structure of the company) and M&A actions. The number of proxy contests focusing on board-related governance fell dramatically in 2018 after seeing a jump in 2017, and fell far below the five-year average.
C. Tactics Used by Activists
The most common tactics in the activist's playbook (other than nominating a director slate) are publicity campaigns (including publicly disclosing presentations about the company or letters to the company, issuing press releases, establishing websites and using Twitter and social media). In 2018, publicity campaigns largely returned to their pre-2017 levels; activist investors made public disclosures in 40% of 2018 campaigns. Other tactics that are used from time to time, including initiation of litigation and the calling of a special meeting, happen relatively rarely—in less than five percent of campaigns over this period.
D. Litigation Tactics Used by Activists
One less frequent, but important, tool in the activist's toolbox is the initiation or threat of litigation. Activists have initiated litigation in roughly two to four percent of campaigns each year for the past five years. Some of the more notable campaigns involving litigation by activists in 2018 included: (1) John Schnatter's attempts to retake control of Papa John's; (2) Carl Icahn's opposition to each of AmTrust Financial Services, Inc.'s going private transaction and Dell Technologies, Inc.'s recapitalization to eliminate its VMWare tracking stock; (3) Third Point's campaign against Campbell's Soup; (4) Albert Ratner's unsuccessful attempt to block the acquisition of Forest City Realty Trust (of which he was co-Chairman emeritus and former CEO) by Brookfield Property Partners; and (5) Darwin Deason's successful efforts to block the Xerox-Fujifilm combination.
Activist-initiated litigation tends to involve Section 220 (books and records) demands, breach of fiduciary duty claims and/or allegations regarding violations of the federal securities laws. Litigation can serve several purposes—in addition to attempting to achieve success on the merits of the claim, activists can use litigation for the purposes of frustration and delay, as an additional platform for airing grievances and as an additional source of pressure on targeted companies and boards. Activists can also leverage interim orders and judgments to bolster their causes (a hollow success on a motion for discovery can be spun in the press as an indication that the underlying claim or agenda has merit, for instance), and use discovery as a tool for ferreting out damaging or embarrassing e-mails and other documents (whether or not ultimately directly related to the matter being litigated). On this last point, the Chancery Court's ruling in Schattner v. Papa John's Intl, Inc., C.A. No. 2018-0542-AGB (Del. Ch. 2019) serves as a reminder of the broad right of directors (not just stockholders) to inspect books and records (including texts and e-mails sent via personal phones and e-mail accounts), and reaffirms the benefits of obtaining contractual waivers of Section 220 demand rights in any settlement that involves giving an activist a board seat.
Third Point's campaign to control Campbell Soup's strategic review process is also illustrative. Third Point acquired a position in Campbell's stock in August of 2018 and proceeded with a public letter campaign, the establishment of its "Refresh Campbell's" website and the nomination of a competing full slate of directors. Shortly following Campbell's own subsequent proxy filing, and only about a month prior to the scheduled annual meeting, Third Point sued Campbell's, accusing its directors of breaching the fiduciary duty of disclosure by, among other things, failing to disclose the incompetence and conflicts of interest of certain of its nominees and requesting that Campbell's annual meeting be delayed (though not stated, presumably to give Third Point more time to promote its investment thesis and competing slate of directors). The complaint was subsequently made part of a public securities filing by Third Point and covered by major media outlets, including CNBC, Bloomberg and Reuters. Third Point ultimately lost its motion for expedited discovery and expedited hearing for a preliminary injunction, but the court's decision did not dismiss the lawsuit or bar Third Point from proceeding with broad discovery, deposition and documentary requests, which some commentators viewed as an attempt by Third Point to gather embarrassing documentation that it could use in connection with its proxy fight. Although Third Point was unsuccessful in replacing Campbell's entire board, it did negotiate the right to nominate two directors to Campbell's board through a settlement reached with Campbell's later in the year.
Of course, activists are not the only ones doing the litigating. In 2018, the Delaware Chancery Court decided In re PLX Technology Inc. S'holders Litig., C.A. No. 9880-VCL (Del. Ch. 2018). Perhaps most notable for its focus on short-termism as a basis for finding a conflict of interest and its finding that Potomac Capital Partners, as an activist investor, could be liable for aiding and abetting PLX Technology Inc.'s directors' breach of their fiduciary duties as a result of the actions of its employee on the PLX board, the Chancery Court's opinion serves as a reminder that (1) fiduciary duties of directors run to a company's shareholders broadly, not to activists, and boards must conduct themselves accordingly, even in the face of activist pressure, and (2) an activist's objectives may differ from those of other shareholders and therefore its affiliated director designee(s) may be conflicted in the pursuit of that objective.
In addition, Elon Musk's recent settlement with the SEC over his take-private tweet, and continued legal trouble over subsequent tweets, provides a reminder that, even under pressure from activists (or, in Mr. Musk's case, short sellers), care must be taken in public communications regarding present intentions and corporate strategy.
E. Company Responses to Activism
Targeted companies utilize a variety of structural and behavioral actions to respond to activist campaigns. Actions taken by target companies in response to campaigns include:
hiring advisors and taking substantive business steps (such as evaluating strategic alternatives with or without a public announcement, and returning cash to investors through dividends or buybacks);
governance changes (including those viewed as governance enhancements by shareholders); and
tactical actions (such as adoption or revision of poison pills, calling of a special meeting, adjourning or postponing meetings, initiation of litigation or changing board size).
More aggressive tactical steps, such as adoption of poison pills and initiation of litigation, remain relatively uncommon during a campaign. Lastly, target board size changes and share buyback announcements in response to activist campaigns decreased sharply below five-year averages.
Proxy Contests
Initiating a proxy contest for representation on a company's board of directors is one of the primary strategies used by activists to achieve their campaign objectives. Defending against a proxy contest requires a public company to expend considerable time and resources as it undertakes to demonstrate to its shareholders that its director candidates are better positioned to lead the company and the company and the board and management are likely to be subject to repeated attacks throughout the course of the proxy contest. It also requires the company and its management and board to absorb and respond to a steady stream of public criticism. As a result, many companies rationally choose to settle with an activist for limited board representation and a standstill agreement, and accept the risk of prolonged controversy and disruption in the boardroom, rather than taking the risks associated with a public proxy contest (see below under the heading "Settlement Agreements" for a more detailed discussion on settlements). This section analyzes key statistics and trends regarding proxy contests, which may help inform strategies for approaching a potential proxy contest.
However, these overall statistics tell only part of the story, as the decision whether or not to settle in individual cases depends upon the particular facts and circumstances. Moreover, as other statistics provided below demonstrate, the consequences of accepting dissident directors can be profound.
A. How Often Are Proxy Contests Settled?
The total number of proxy contests has been stable over the past three years, following a significant drop-off in the number of reported proxy contests in 2016. The recent stabilization in terms of the number of proxy contests in a given year likely reflects a trend toward engaging in private discussions with activist investors to resolve their concerns before a potential proxy contest is made public.
Each year since 2015, roughly half of the proxy contests extended beyond the date that the proxy statements for both sides went "definitive"—in other words, closer in time to the date of the shareholders' meeting at which directors are elected. Of these, issuers and activists generally settled, on average, one in four contests.
B. Results of Recent Proxy Contests
The percentage of proxy contests involving a control slate, or a slate for a majority of the board seats, has ranged from 51% to 74% from 2014 to 2018. This suggests that, once activists invest in formally commencing a proxy contest, many are not content to merely gain a seat at the table to influence the direction of the company but rather are seeking the ability to control the direction of the company, or at a minimum are willing to threaten a control attempt in order to gain negotiating leverage. Control slates returned to more typical levels after a sharp decline in the number of control slate contests (as a percentage of total contests) in 2017 as compared to prior years.
Over the last five years, approximately 45% of all proxy contests, control slates or short slates (a slate for a minority of the board seats) resulted in the activist investor obtaining one or more seats on the board. However, for each year in our study, short slate contests are somewhat more successful than control slate contests by this measure.
When an activist investor puts forward a short slate of directors, they typically nominate two or more director candidates. Over the past five years, activists have sought multiple board seats in approximately 80% of short slate contests each year on average. In 2018, a greater percentage of short slate contests involved activists seeking only one board seat, but activists still sought multiple board seats in the majority of short slate contests.
For the three years before 2017, when an activist investor put forward a short slate of directors, the issuer and activist investor ended up agreeing to settle the contest before a vote approximately 32% of the time on average. In the past two years the settlement percentage has been significantly higher. In 2017, the settlement percentage jumped to 48%; in 2018, the percentage increased to 50%, the highest percentage in our study. In the context of control slates, for the three years before 2017, the issuer and activist investor agreed to settle the contest before a vote approximately 57% of the time on average. In 2017, however, that percentage dropped to 33% and increased slightly to 40% in 2018. This data does not appear to present a clear trend, either relatively or absolutely.
The inconsistency in the frequency of the pre-vote resolution of proxy contests in the short versus control slate contexts may have a number of explanations. One explanation is that management may be predisposed to settling in the context of a short slate contest because it may be more difficult to justify the monetary and reputational cost of publicly fighting an activist that is seeking only one or two board seats. In contrast, in the control slate context, an issuer may be less likely to be able to settle with the activist on acceptable terms and may be increasingly willing to defend the company's incumbent directors and strategic direction in a public forum. Issuers' decisions in these cases have been bolstered by data showing that an issuer is more likely to prevail in a control slate contest than the activist.
Of the proxy contests that go all the way to a vote, until recently incumbent board candidates had been increasingly successful in defeating activist investors' slates of directors. The margin of success for companies began to decline and fell to a five-year low in 2018. The reasons for the companies' declining success rate vary from campaign to campaign and may result, in part, from an increase in the savviness of activists, improvements in the quality of their director nominees and their increasing appeal to institutional shareholders.
From 2015 to 2017, issuers won short slate contests that went to a vote between 60% and 80% of the time. That success rate for short slate contests dropped to 33% in 2018. One possible explanation for the drop is that activist investors have become more selective when pursuing short slate contests. In addition, the limited success of short slate campaigns in the preceding three years, activists may have become increasingly committed to their short slate campaigns and dedicated the necessary resources to see those campaigns through to the finish line.
Similarly, between 2015 and 2017 incumbent slates of directors experienced a fairly rapid year-over-year increase in their success rate with respect to winning control slate votes. In 2018, however, issuer success in control slate contests hit the lowest rate in five years. Although the activist success rate for control contests stayed the same in 2017 and 2018, a vote split in 2018 occurred in 14% of control contests.
C. What Occurs in the Aftermath of a Proxy Contest?
The conclusion of a proxy contest, regardless of the outcome, is often a precursor to change for the company. In the year or so after a proxy contest, it is not uncommon to see changes to senior management or the board of directors, strategic initiatives such as mergers or spin- offs or the continuation of activist efforts through additional future proxy contests (whether waged by the same or another activist). The table above presents how often certain changes or events occur in the aftermath of all proxy contests that go to a vote. Note that because these changes can take time, the 2017 and 2018 data should be considered in light of the fact that enough time may not have elapsed since each proxy contest concluded for some of these changes to take place. Anecdotally, many practitioners believe the incidence of CEO turnover resulting from activism is actually much higher.
There have been fewer CEO changes and mergers or spin-offs from 2015 to 2018, and the likelihood of additional proxy contests declined. However, changes to the board have increased notably since 2014 and have consistently impacted a majority of the target companies after a proxy contest that went to a vote. Activist funds are now holding investments longer, often up to five years, and focusing initially on operational turnarounds. It is possible that activists have had no choice but to adapt to a longer time frame as companies susceptible to quick fixes have largely disappeared due to preemptive actions by boards and prior activist campaigns. We expect that, if operational and share price targets are not achieved, the push for another solution will become more urgent and be reflected in CEO change or merger/ spin-off activity at the same rates as appeared in our data for 2014 and 2015.
Interestingly, the frequency of these types of changes does not seem to depend heavily on the outcome of the contest—that is, whether management or the activist won or the vote was split. This may reflect the fact that activists do not typically withdraw following a contest. They often continue campaigns after a lost vote, many times successfully. It may also indicate that the issues raised during the course of the contest, including those raised by the activist and those arising in shareholder outreach discussions, can in some cases lead the board and management to conclude that responsive steps should be taken even if the management slate wins.
Lastly, no discussion of the aftermath of activist contests would be complete without pointing out that activists are not always successful in delivering the results promised by their campaigns. A good example (but by no means the only example) of this phenomenon is Trian's investment at GE.
The complete publication, including footnotes, is available here.