Eliot Caroom is Product Manager at Truvalue Labs. This post is based on a Truvalue Labs memorandum by Mr. Caroom.
Tesla's innovation and drama make it one of the most-discussed cos in Truvalue universe
Tesla is the consummate story stock thanks to its sleek, innovative electric cars, ample stagecraft for product launches, and, of course, outspoken founder and CEO Elon Musk. Tesla is also one of the most controversial companies in the world, thanks to its Autopilot technology's safety concerns, its difficulties scaling production to meet an unknown demand, and, once again, outspoken founder and CEO Elon Musk. In the chart below, Tesla is a perennial most-discussed company, showing up in the top 10 list of companies for event volume captured by Truvalue Labs year after year. With prolific coverage, how can investors focus on key governance concerns for Tesla?
"Teflon Elon" has resisted oversight, but ESG research demonstrates a range of governance issues for shareholders
In April 2017, investors campaigned for better governance, and Elon Musk tweeted "This investor group should buy Ford stock. Their governance is amazing …" Musk's Twitter followers ate it up. In the years since, a devoted fanbase among shareholders has insulated Musk from governance proposals.
But in 2H18 and YTD 2019, as Tesla struggled to launch its crucial mass-market Model 3, shares have fallen due to production misses, reported financing needs, and beefing by Musk with short sellers and the SEC. Should investors still view Tesla as necessarily a "ride or die" investment journey that can only take place with an unfettered Musk in the driver's seat?
This post will use Truvalue Labs' timely ESG data to contextualize the hectic recent history of Tesla using ESG lenses to compare performance with automaker peers. Given the well-known nature of Tesla's environmentally beneficial product innovations and the company's journey to scale production, this brief will focus solely on governance seen through the frame of ESG categories, including those that the Sustainability Accounting Standards Board (SASB) considers financially material for the Automobiles industry, as highlighted by Truvalue Platform SASB Edition. Additional signals from Truvalue Platform Standard Edition's Corporate Governance category are also considered.
Tesla a perennial leader in coverage volume on Truvalue Platform
Source: Truvalue DaaS (Data as a Service product) [1]
Why Tesla research benefits from SASB plus Governance analysis
Decades of research show that governance topics are related to various types of company performance. Dozens of empirical studies have found "a positive correlation between governance variables and corporate performance, measured in both financial metrics as well as non-financial metrics," according to a meta-analysis by Deloitte and Nyenrode Business Universiteit. [2]
As corporate governance scholars Hawley and Williams write (emphasis added),
"Without 'good' corporate governance to oversee, monitor, and evaluate management, the principal-agent problem embedded in the corporate form suggests that management will pursue its own goals (power- and prestige-enhancing acquisitions, large salaries, perquisites such as company jets, and so on) to the detriment of the owners' interests in wealth maximization. The consequence, of course, is poor economic performance and lower long-term investment returns." [3]
These points are demonstrated by the case of Tesla, a poster child for why governance is an important topic for shareholders. In April 2019, board members friendly to CEO Elon Musk were ousted after shareholders sued the board, in an event captured by Truvalue.
Musk's "own goals" have often loomed large, as with Tesla's acquisition of Musk-founded Solar City, and in the case of his tweet-heard-round-the-investment-world: "Am considering taking Tesla private at $420. Funding secured."
Examining Tesla governance-related events in timely Truvalue data
This post will demonstrate the role of Truvalue data in monitoring corporate governance performance to supplement quantitative metrics. It will focus on two governance-related topics that have affected Tesla's scores on Truvalue's platforms:
SolarCity acquisition
Board independence
Analysis on these plus two more topics are included in a full research brief available through Truvalue Labs:
Executive turnover
Musk tweets about Tesla going private
Executive pay is not a major focus because a remarkable potential payday for Musk is reliant on Tesla hitting even more remarkable market cap targets: he can earn as much as $55.8 billion in stock and other compensation, if Tesla's market cap reaches $650 billion. Since that deal was approved in March 2018, though, Tesla shares have fallen nearly 50%, so the compensation is incredibly speculative, resisting conventional analysis.
SolarCity deal announcement sets stage for shareholder lawsuit
On August 1, 2016, Tesla announced its intention to buy SolarCity, and was sued by shareholders in short order before the deal closed. On Truvalue Platform Standard Edition, data was captured in the Corporate Governance category, in which Tesla's timely Pulse score declined over the next month. The data driving the decline included events captured from specialist sources like Courthouse News Service, which reported on a suit by the City of Riviera Beach Police Pension Fund, which called the deal a bailout for a financially troubled SolarCity. It cited Elon Musk's status as chairman and largest shareholder of both Tesla and SolarCity, his financial interest in both companies, and a claim that "six of seven Tesla board members are either beholden to Musk or directly own SolarCity shares themselves, about $560 million worth."
That lawsuit cited investment analysts such as UBS, whose analysts said: "'we continue to remain cautious on the deal given the lack of compelling synergies …and the fact this is an unneeded distraction for [Tesla] management which already faces challenges with the Model 3 launch and significant production targets.'"
"Elon Musk dominates the Tesla board through his 18.4% stock ownership and his positions as the CEO and chairman of the board, and because a majority of the Tesla board is intimately involved with other Musk companies."
– City of Riviera Beach Police Pension Fund suit
A year later in 2017, after the deal had closed, investor pressure was still on the rise for greater corporate governance controls, including from CALSTERS and Hermes Equity Ownership, which pushed for governance changes including annual re-election of directors, as captured by Truvalue in a Fortune article:
"We expect that as companies make the transition to publicly-traded status, the governance structures and practices in place at the time of the IPO will evolve to align with the company's changing strategy. However, Tesla's seven-member board is largely unchanged from its pre-IPO days."
Musk fired back in peak form on April 12:
Source: Twitter
At the time, Musk's fans applauded his post, tweeting GIFs of Kobe Bryant cringing and laughing, and Ashton Kutcher on That 70's Show, shouting "Burn!" Other replies included:
"You are right Elon. They want short term cash and do not care about your vision. Same people that caused the crisis."
"It's the same how #Apple was almost dead from uncreative board members. Stock market is ultra short sighted."
"Hope you like this" (a link to a bullish blog on Zacks.com was shared by its author)
It was a giddy time for Musk true believers, just days after Tesla's valuation topped GM to make it the most valuable US automaker, worth nearly $51 billion. The story stock was now explicitly confirmed to be unmeasurable in governance terms, and reliance on Musk's brilliance and his Steve Jobsian role in the Tesla story became explicit narrative.
Board independence issue (the lack of it) is seen as Tesla corporate governance score -15% in the past 3 years
Source: Truvalue Platform Standard Edition
As the 2016 lawsuit pointed out, members of the Tesla board were closely tied to Elon Musk and his various external business ventures. Over the ensuing years, Tesla's Corporate Governance long-term Insight score continued its decline (see chart above). Board issues have been a major topic in the public conversation of Tesla: On Truvalue Standard Edition, 518 out of 7,322 stories mentioned the "board of directors," a significant minority of coverage.
In June 2018, Musk fought off a proposal to split the CEO and chairman roles which had support of the world's largest sovereign wealth fund, Norges Bank Investment Management.
According to the previously cited Deloitte and Nyenrode study (emphasis added): "CEO duality, where the position of the CEO and Chairman are combined, makes the CEO more powerful…. This structure occurs more in companies with a higher proportion of insiders on the board and where the CEO has greater formal power and agenda control. These powerful CEOs are more likely to realize positive changes to firm performance. However, it should be noted that a powerful CEO also makes more risky decisions."
In 2018, Musk finally stepped down as chairman of the board at Tesla as part of a deal to settle the SEC's securities-fraud lawsuit. That in itself may reduce some risks for Tesla in the long-term. As seen in the chart at the top of the next page, Tesla's Corporate Governance timely Pulse score took a hit with accounts describing the settlement and Musk's actions that led him to step down, but then rose throughout 4Q18, with its share price.
Tesla corporate governance score +35% in quarter after Musk agrees to resign as chair, stock also sustains uptrend through 4Q18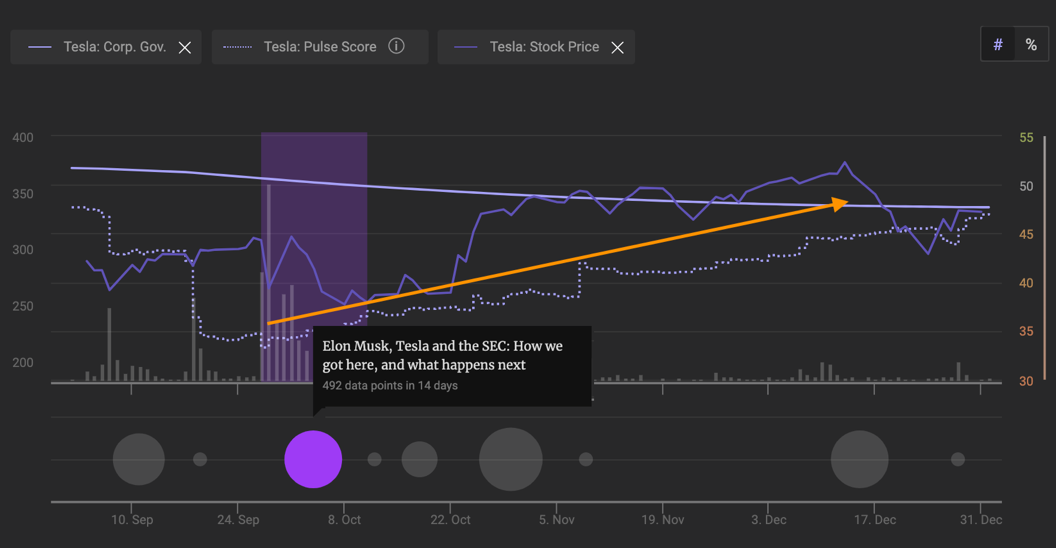 Source: Truvalue Platform Standard Edition
Continued monitoring of the Corporate Governance topic using Truvalue Standard Edition would highlight an ongoing theme of a board criticized for a lack of independence, as when Tesla announced in Dec. 2018 that close Musk friend Larry Ellison would join its board.
In April 2019 Tesla announced the board would shed four of its 11 members (who had close ties to Musk), allegedly to allow it to react more nimbly. As a New York Times story captured by Truvalue Labs points out, the board is unusually highly paid for a public company board, with "10 directors other than Mr. Musk … given stock options valued at more than $60 million in 2018."
* * *
The complete memorandum is available here.
Endnotes
1For all scores in this section, SASB's Materiality lens is turned off. Valuation as of June 2019. Valuation Source: Refinitiv(go back)
2"Good Governance driving Corporate Performance? A meta-analysis of academic research & invitation to engage in the dialogue." December 2016.(go back)
3"The Rise of Fiduciary Capitalism: How Institutional Investors Can Make Corporate America More Democratic." James P. Hawley and Andrew T. Williams, 2000. Note: Since authoring this book, James Hawley joined Truvalue Labs, where he currently serves as Head of Applied Research.(go back)