Daniella Gama-Diaz is Associate Editor at Equilar, Inc. This post is based on an Equilar memorandum by Ms. Gama-Diaz, Zeynep Akca, Jacob Doty, Louisa Lan, and Paul Richardson.
For the ninth consecutive quarter, the Equilar Gender Diversity Index (GDI) has increased. With the percentage of women on the boards of Russell 3000 companies increasing from 20.9% in Q3 2019 to 21.5% in Q4 2019, the GDI is now 0.43, where 1.0 represents parity among men and women. The continuous upward trend of women on boards has pushed the GDI to the highest point it has ever been.
While the past few years have represented progress, 2019 saw the most significant growth for women on corporate boards. Q2 2019 was the first time the percentage of women on Russell 3000 boards exceeded 20%, while Q3 further pushed this statistic to 20.9% and Q4 rounded out the decade at 21.5%. With over 21% of Russell 3000 board seats belonging to women, 114 companies have boards with between 40% and 50% women. When Equilar began tracking the GDI in January 2017, only 15% of board seats in the Russell 3000 were held by women.
Each year, boards face more pressure from investors to add diversity to their boards, and the new GDI reflects this trend. "In recent years, many investors have updated their voting policies regarding expectations around board gender diversity," explained Brigid Rosati, Director of Business Development at Georgeson. "These policies vary in scope and approach, but the message is clear—companies that lack diversity may be scrutinized with votes against directors at the annual meeting."
This trend can be expected to continue into the new decade. Among companies that previously had zero women on their boards, almost 16% added a woman in Q4 2019—this is a sharp increase from 8% of those companies adding a female director in Q4 2018. As shown in Figure 1, currently, just 7.7% of Russell 3000 boards are without a woman. Just a year ago, 15.8% of companies were without female directors.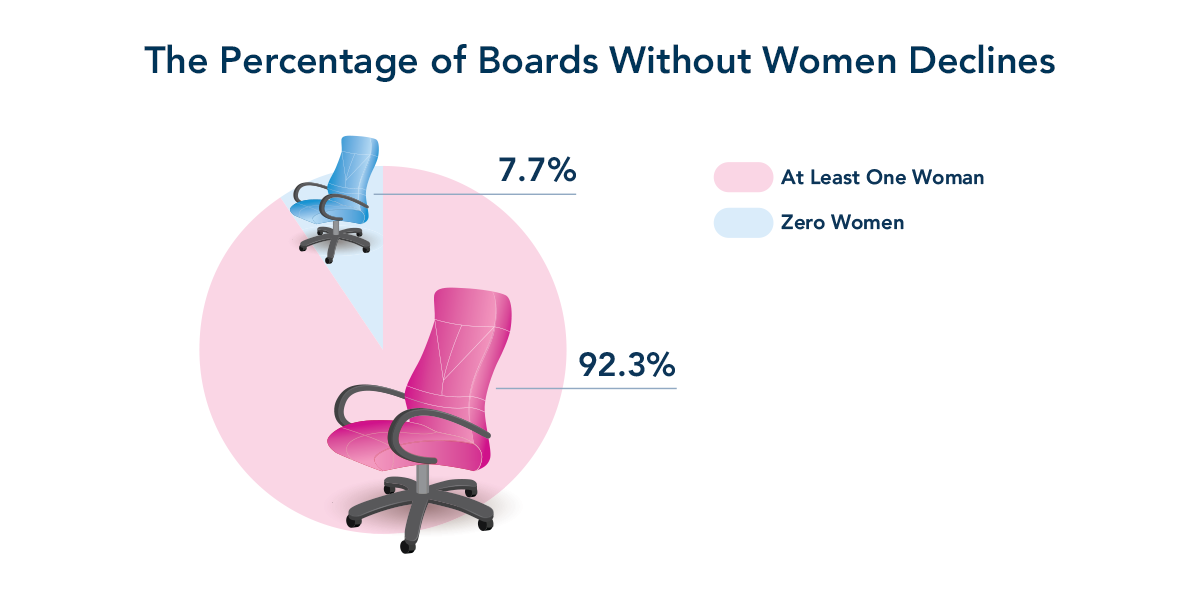 Progress on the diversity front could be attributed to various legislative efforts. In 2018, California famously passed a law mandating the placement of women on boards. The ruling was met with some backlash and even a lawsuit. However, the law has yielded positive results thus far. In Q3 of 2018, 16.6% of board members in California were women. In Q4 2019, a little over a year later and after the law was introduced, this number increased to 23.2%. Among all U.S. states, California ranks 16th in terms of prevalence of women on boards.
Of the top five states with the most Russell 3000 companies, California saw the greatest drop in boards without a female director. Such companies represented 20.3% of all California companies in 2018, but now make up just 1.3% of companies.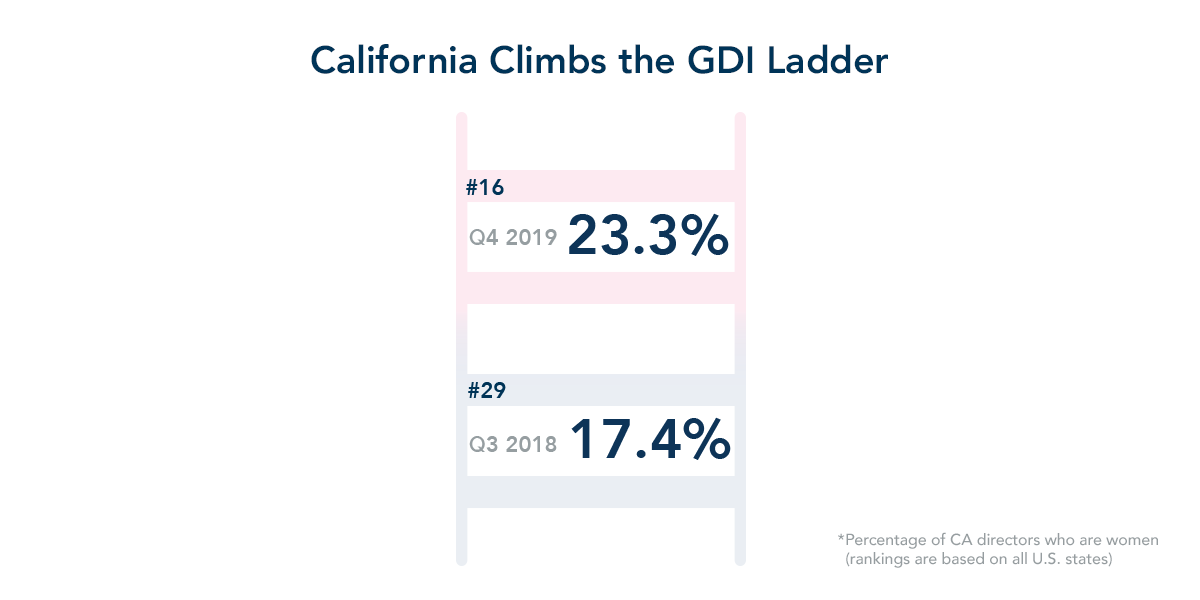 Likewise, Massachusetts may pass a similar law soon, as several bills have been proposed to mandate more women on public boards for companies headquartered in the state. In Illinois, efforts to pass a similar law have met resistance, and gender diversity on boards has yet to come to fruition.
Congress has also taken action on the subject. "The House of Representatives has passed a bill requiring companies to disclose the gender, race, ethnicity and veteran status of their sitting directors, board nominees, and executive officers, and it authorizes the SEC to create an advisory group on board diversity," explained Susan Angele, Senior Advisor at KPMG's Board Leadership Center.
In a push from the private sector, Goldman Sachs recently announced companies must have at least one diverse board member in order to go public. The firm has stated that it will begin its focus around women. As one of the largest financial and investment management firms in the country, Goldman Sachs is playing a key role in moving towards boardroom diversity and equality, which may yield great results in the coming years.
Although progress is being made, reaching gender parity across the Russell 3000 still remains a challenge. Currently, just 60 Russell 3000 companies have at least 50% women on their boards. However, at the current rate of growth of women on boards, gender parity would not be achieved until 2030. While this seems like a long way to go, it does represent significant progress given that by the close of 2017, gender parity was projected to be achieved by 2048. "Much of this momentum can be attributed to efforts to promote diversity through changing investor focuses, including voting policies and industry movements, and evolving stakeholder priorities," explained Rosati.
"As a board evolves to include more women, the new board members add knowledge of and access to a broader and more diverse network from which to recruit new board members in the future, and more women may be interested in joining the board as it becomes more diverse and inclusive," added Angele.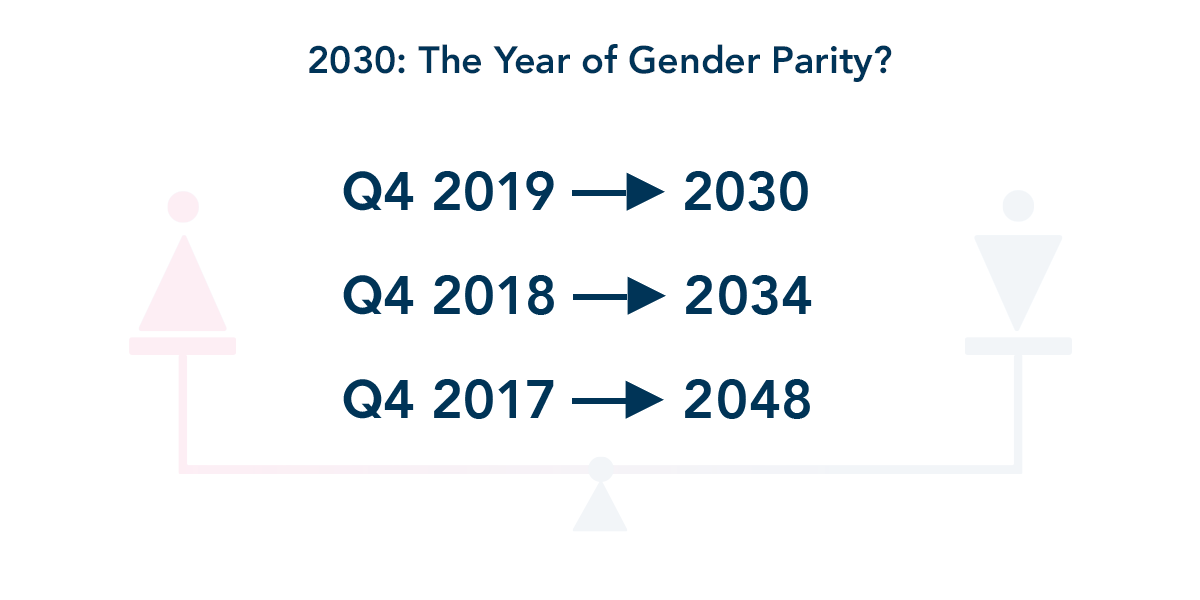 As we settle into the new decade, efforts in legislation, private enterprise and public opinion will continue to shift the GDI closer to 1.0. Until then, progress in gender parity will continue to increase with each quarter.
About Equilar Gender Diversity Index
The Equilar GDI reflects changes on Russell 3000 boards on a quarterly basis as cited in 8-K filings to the SEC. Most indices that track information about board diversity do so annually or even less frequently, and typically with a smaller sample size, sometimes looking back more than a full year by the time the information is published. While this data is reliable and accurate, the Equilar GDI aims to capture the influence of the increasing calls for diversity from investors and other stakeholders in real time.
The Equilar GDI is powered by Equilar BoardEdge, a database of more than 500,000 public company board members and executives. BoardEdge includes exclusive features that show how board members and companies are connected to each other, as well as the Equilar Diversity Network (EDN), a "registry of registries" of board-ready executives from leading ethnic and gender diversity partnerships, organizations, and publications.